FirstCry vs Hopscotch: SEO Breakdown
The kids' apparel market is an ever-growing segment in India which is expected to reach US $24.5 Billion by 2028. 
This market caters to 0-14 years old & as India has one of the most significant young populations (around 375 million), and the recent wide acceptance of online ordering makes this market even more lucrative. 
Currently, only a few brands have been able to capture their place in the online space.

In this guide, we will break down the top 2 players in the kid's apparel market:  
Firstcry.com

Hopscotch.com   
Chapter 1
Traffic Insights
Chapter 2
Untapped SEO Opportunities
Chapter 3
SEO Strategies & Challenges
      Chapter 5
    Lessons to Learn
One of the main aspects of this study was to analyse the traffic of both websites.
We dug deep into the different areas of traffic such as:  
Once you know this, you can target your potential customers in a more precise way.
Firstcry:
Firstcry.com gets around 9.3M traffic/month out of which 163k comes from paid traffic.

Two important terms here that we should look at concerning SEO here are

Authority Score: The authority score of a website is the metric which tells that it has powerful links from other websites (meaning people trust it) & Google sees it as a quality website and generally tends to rank it higher than websites with a low authority score fighting for the same keyword.

Backlinks: Backlinks simply mean when a website links to our website.

Firstcry has a whooping 32.5M backlinks which is a very high number in the backlink space.
Hopscotch 
Hopscotch gets overall traffic of around 1M out of which 19k comes from brand keywords and the rest is organic.  
Its authority score is 51 which is pretty decent, and have 42.5K backlinks which are far less than Firstcry, but still a good number.  
Traffic Breakdown by Device 
As you can see from the above image most of the traffic comes from Mobile devices which is why having a mobile-friendly website & easy navigation is very crucial.   
Firstcry gets 86% of its traffic from mobile whereas, in the case of Hopscotch, it's 90%. 
By Age
The age group of 25-34 happens to bring in the most traffic to both of these websites. This is the same age group which is most likely to become parents for the first time. 
For someone who is thinking to enter the baby wear market, you should target the audience of 25-34 and their points.
Gender Distribution

Males contribute to an average of 42% of the traffic & Females have 58% contribution. 
  Untapped SEO Opportunities
Even though both these brands were doing good. 
There is still a lot of market that needs to be captured. 
In this Chapter, we dive into untapped aspects:  
Untapped Keywords

Page Speed

Schema 
Traffic Gap 
 There is a huge opportunity for both websites to hop on in terms of keywords related to kid's wear categories which Myntra currently aces. 
Optimizing even these few keywords can open the opportunity for 3-4M searches/month.
Negligible Textual Content  
While analysing the keyword, Dresses for Girls: We found Myntra to be on the top.
So, we dug into it to find out why it was ranking at the top and finding winning strategies.
The first one was its Title, which was tailor-made for the Keyword Girl Dresses.
Another important thing we found out was the content section at the end of its page.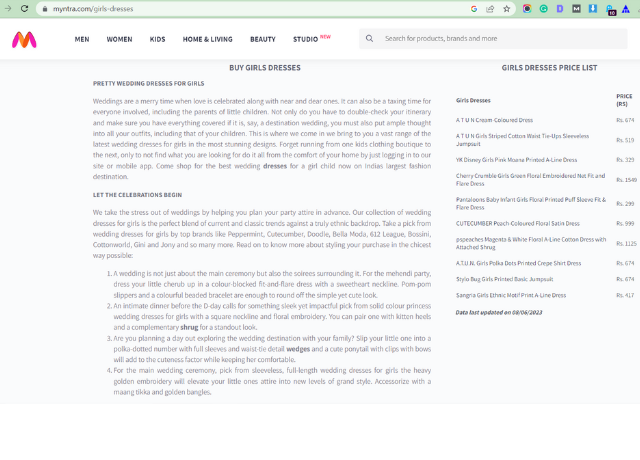 They had included 600-700 words around the keyword Dresses for Girls, which helped in ranking them at the top and was missing from both FirstCry and Hopscotch.
Mobile Page Speed 
FirstCry PageSpeed Result  (Mobile Device) 
Hopscotch PageSpeed Result (Mobile Device)
Hopscotch & Firstcry both performed below average for Pagespeed. 
Hopscotch could only get 10 points, on the other hand, Firstcry only managed to get 19 which is quite less & considering most of the traffic comes from mobile it should be optimized. 
Page speed is one of the ranking factors for Google and also the attention span has gone down to 3s, people start to leave the website if it takes more time to load.  
Schema
With the help of Schema code, we can show star ratings in SERP (Search Engine Result Page), FAQ section and more.
It helps with better CTR (Click through rate), tends to get more space from other results and undoubtedly stands out.
Surprisingly enough, both of the websites in question haven't implemented Schema Code on their pages, which can obviously help them get more clicks for obvious reasons.
Here is what the review Schema code looks like:
This also gives a sense of trust to the potential users that this website's products are of good quality as so many people have given them good ratings.
  SEO Strategies & Challenges
In this Chapter, we tried to display the SEO Strategies used by these 2 brands. 
What strategies were helping these brands to get users to their websites? 
In Highlight:  
On-Page SEO

Title & Description

Navigation
On-Page 
Optimized Title or Not? 
The next step was to check if their Titles were properly optimized or not.
To do that, we analyzed one of the biggest keywords from the industry: "Dresses for Girls" which had 550k searches/month.
For the keyword in question, Firstrcy was in 9th position and Hopscotch secured 4th.
Let's dig into their Titles:
FirstCry Title
The Title of FirstCry seemed to target 2 different keywords, which is not good considering how important & competitive the keyword is.
They were trying to rank dresses and frocks from a single page.
Also, it is always advised to keep the Title under 60 characters, anything over that gets cut out in the search results.
This was one of the reasons they were ranked so low for the keyword, although due to their domain authority, they still managed to be on the first page, but not for long.
Hopscotch Title: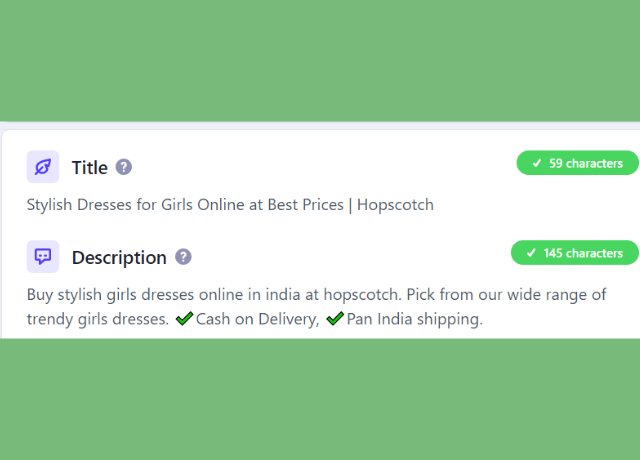 One of the reasons Hopscotch was able to secure 4th position was its crisp to-the-point Title which was only targeting Dresses for Girls and was under 60 characters.
The only thing I would change in this title will be to move Stylish at the end, so the Title will look something like this:
Dresses For Girls Online | Stylish Dresses at Best Prices

Meta Description
Also, in the images above you saw the difference in the Meta descriptions of both websites. FirstCry's description looked very cluttered and too big (282 characters), on the other hand, Hopscotch managed to keep it very precise.
All these little things can make a lot of impact on the ranking and thus sales.
Simple Calculation
Let's do a simple calculation, by just improving the titles and description, ranking jumps from 9th to 3rd position for a keyword that gets 550k searches/month.
We can get traffic of 550k*20% (average ctr of 3rd position) = 1,10,000 users/month.
And considering the conversion rates of these pages to be around 8%, we can get 1,10,000*8% = 8,800 more sales per month.
Considering the average order value to be around Rs 1200.
Increased Revenue per month will be Rs 1200 * 8800 = 1.05 Cr
This is just the maths for one page, imagine optimizing all the pages of the website.
Backlink
FirstCry
FirstCry managed to get a whopping 32.5M backlinks with its rigorous effort of promoting the Brand and getting links from reputed websites.
Backlinks tells Google that a website is trustworthy and helps it gain authority in Google's search result.
Apparently, the more the number of backlinks one page has, it has the higher chance of ranking on top of the search results for different keywords.
Hopscotch 

In comparison to FirstCry, Hopscotch could only manage to get 42.5k backlinks, which is one of their weakest links so far with regard to their SEO effort.
By gaining a substantial amount of Backlinks on their key pages, they can get better ranking and once the authority of a website builds, it starts to rank for other keywords pretty easily which we see in the case of FirstCry.
Technical Challenges 
One of the highlights in the case of challenges for Hopscotch was its dynamic url case.
As we went into our research mode, we found out that the url's of Hopscotch kept on changing on regular basis which is not good in terms of indexing and Google might see it as a fraud activity.
This dynamic url challenge cost Hopscotch a huge loss in ranking as the crawlers cannot decide which url to rank as it changes after every few days.
Navigation  
Hopscotch:


Hopscotch's Navigation seemed to be its weakest forte. We figured out a lot of loopholes with just a little digging. 

The menu could have been niched down allowing users to see at least the popular categories for both genders for saving their time and improving user experience. 
Reducing the friction even by 1 sec can have a significant impact on sales. 
Even when we select the age group, the landing page looked very cluttered.

The simple fix could have been giving the user clear navigation at the top allowing them to go to the popular categories with just a click.
Once you have set the filters under the discover option, there was no way to go back to the homepage.  
Unless you change the filter again. Which is quite surprising and a frustrating experience for the user.

The solution for this is simple, whenever a user clicks on the logo they should be redirected to the homepage.
Firstcry: 
Firstcry did a pretty good job with the navigation. They had all the important categories at the top and upon hovering it turned into a mega menu showing everything under that category allowing users to select desired product category easily.    
Blogging 
Parenting advice for brand visibility
Firstcry has made a dedicated subdomain to address the issues of first-time parents and the pain points they might face in the journey. 
Here they talk about varied topics ranging from pregnancy to common baby health issues.

This is a great strategy to show that they care about their audience and connect with them on a personal level.
Hopscotch tries to attract parents by sharing ideas to sharpen their kid's minds from an early age.  
After analysing both websites from all angles. 
We thought of giving them scores on the basis of our findings. 
In this scorecard, we took the most important points like: 
On-Page SEO

Backlinks

Pagespeed 
Let's dive in to see who performed better.
| Areas | FirstCry | Hopscotch |
| --- | --- | --- |
| Traffic | 10 | 7 |
| On-Page SEO | 6 | 7 |
| Off-Page SEO | 8 | 5 |
| Navigation | 8 | 6 |
| Promotion/Branding | 9 | 4 |
| Backlinks | 10 | 4 |
| Page Speed | 4 | 2 |
| Keyword Research | 7 | 8 |
| Paid Advertising | 9 | 4 |
You can clearly figure out that, apart from On-page SEO, FirstCry was a clear winner here.
In this chapter, we wanted to show you the takeaways of this study.
How an aspiring kids' clothing brand can compete with the leaders of the industry by following in their footsteps.
And also avoiding the mistakes they were doing.
Our Go-to-Strategy for New Brands 
Categorization 
One of the most overlooked SEO point that we found common in all the big and small website was the product categorization. Even big players like Hopscotch seemed to be doing this mistake.
Suppose there is a big keyword as "Boys T-shirt", most of the websites only focused on these primary terms and cared less about more targetted keywords which obviously had less search volume but had higher chance of conversion.
Like in our case can be: boys t-shirt white, black boys t-shirt, denim boys t-shirt.
All these small keyword variations can bring in a lot of traffic to the website and prove to be beneficial for the business.
So, try to focus on these small keywords and start to rank for them and then go up the ladder and fight for the big terms.
Better Keyword Research For Blogging
Blogging is often overlooked by e-commerce website's as they are not supposed to bring any sales.
But indirectly they help a lot with the SEO.
When you write blogs on proper targeted keywords it can not only bring the right kind of audience but also increase the overall SEO of the website resulting in better ranking of product focused keywords.
Because of blogging the topical authority of the website increases and Google start to see your website as the industry leader and automatically improves the overall ranking.
Branding 
FirstCry spent a lot of money on Branding, you must be thinking but what does it have to do with SEO?
Trust me, it has! Google released one of its algorithm changes called EAT back in 2014, which stands for Expertise, Authoritativeness & Trust.
When you do a lot of branding, people start talking about you all over the Internet & Google starts to see you as an Expert in that field and trusts your results for the keywords you are fighting for, among others.
That is why during our analysis, we found that FirstCry could rank on the first page even with low SEO efforts.
So, if you are also an upcoming brand, you might not have the same amount of funds as FirstCry, but you must always keep some money aside for branding in an intelligent way and gaining trust in Google's eye.
This is where FirstCry got the upper hand over Hopscotch.
Fight With Leaders with SEO
There are a lot of players in the kid's clothing industry, although only a few have been able to cope-up with the competition, one of them being Hopscotch.
With their SEO activities, they have been able to grab a lot of internet users and do business with them.
Although still there is a lot of room for improvement as we saw in the Traffic Gap analysis, by doing a much more intense keyword research they can find gold mines still left to be captured by them.
Keep the Navigation Simple
One of the main things which you as a brand would like to do is keep the website's navigation as simple as possible.
Because once the user lands on the website, if he/she is going to revisit depends totally on the user experience they get for the first time.
Your website must be easily accessible to users, they should be able to find out all the categories, and there should be a clear search bar where they search desired products or categories.
You can even take the help of tools like Hotjar to see which areas are clicked by users with the help of the heat map it creates.
Conclusion:
This was our take on 2 of the most popular kids' wear websites in India.
Hope it will help any aspiring kids' clothing brand to understand the winning strategies and untapped opportunities to grab and shine in the SEO game.
Which tactics from this post are you going to put your hands on to:
Is it going to be optimizing the Title & Description?
Or Improving the Page Speed?
Or making your navigation crystal clear and easy to access for your users?
Also if you want us to dig into any other aspect of SEO of these 2 websites, feel free to drop that in the comment section