To understand the SEO Potential of the Baby Clothing Online Industry, Let us understand the market size and the Industry.
The Indian Kid's Wear Market was valued at 732 Cr in 2008 and is expected to grow up to a whopping 1661.47 Cr market by the year 2028.

Kids Apparel Market Size according to – (https://www.statista.com/statistics/730996/kid-s-apparel-market-size-india/) 

The growing disposable income and evolving lifestyles of households in India, particularly in urban areas, are driving the demand for children's clothing in the country. The trend of nuclear families and dual-income households is expected to continue fueling growth in the Kids' Wear market in the coming years.
As one of the most ancient and affluent cultures, India is undergoing a shift towards westernization and social media trends. These changes are influencing Kids to wear Industry and leading to a rise in spending on children's fashion, particularly in Tier I and II cities.
The growth of the Kids' Wear market in India is also being supported by the rise of internet retailing. As more and more people are exposed to international brands via television and the internet, they are increasingly opting to purchase children's clothing that features the latest fashion trends and designs.
Impact due to Covid
Despite the Worst of the worst days, some good things also happened. Covid pushed the online clothing Industry 10 years ahead. It changed the buying intent of users.
Generally, Indian parents can compromise for their own health and happiness but they take the baby's wishes and requirements very seriously, despite of low family income. After covid, the online sale seems 3 times more and the average billing is doubled too. The friction is been reduced due to covid, and it created a gradual advantage for online e-commerce websites.
Search Volume Jackpot of Baby Clothing
Here are the Top 1000 keywords and blogging ideas, which you should consider for selling kids' wear online. This List consists of Keywords which are targetted by India's biggest brands like Firstcry.com
Category Breakup: 
The categorisation is mainly based on the following: 
Gender (Boys & Girls)

Age 
 Now, we will break it down even further to understand each category in detail. 
Based on Gender
Boys  
When we drilled down inside the Boys' Category, it consisted of the following products:
Sets & Suits 

T-shirts 

Shorts 

Nightwear

Jeans & Trousers

Onesies & Rompers

Shirts 

Party Wear

Pajamas & Joggers

Ethnic Wear

Inner Wear

Caps & Gloves

Bath Time

Swim Wear

Athleisure & Sportswear

Sweatshirts

Jackets

Sweaters

Thermals   
We then found the search volume for all these keywords to find out the potential traffic a website can get had they been able to get every single user to their website which came out to be 23,27,190 and the average difficulty was only around 27% which is fairly easy to work upon.
You can check the complete set of keywords list here.

Girls
The Girl's category had the following products:
Frocks & Dresses 

Sets & Suits 

Tops and T-shirts 

Shorts & Skirts 

Nightwear

Onesies & Rompers

Party Wear

Jeans & Jeggings

Pajamas & Track Pants

Leggings

Ethnic Wear

Inner Wear

Caps & Gloves

Bath Time

Socks & Tights

Swim Wear

Athleisure & Sportswear

Sweatshirts

Jackets

Sweaters

Thermals

Rainwear
Similarly, we found the search volume for the Girls Category came out to be 92,24,180 and the average difficulty was only around 28% which is fairly easy to work upon.
You can check the complete list of 5000+ Keywords here.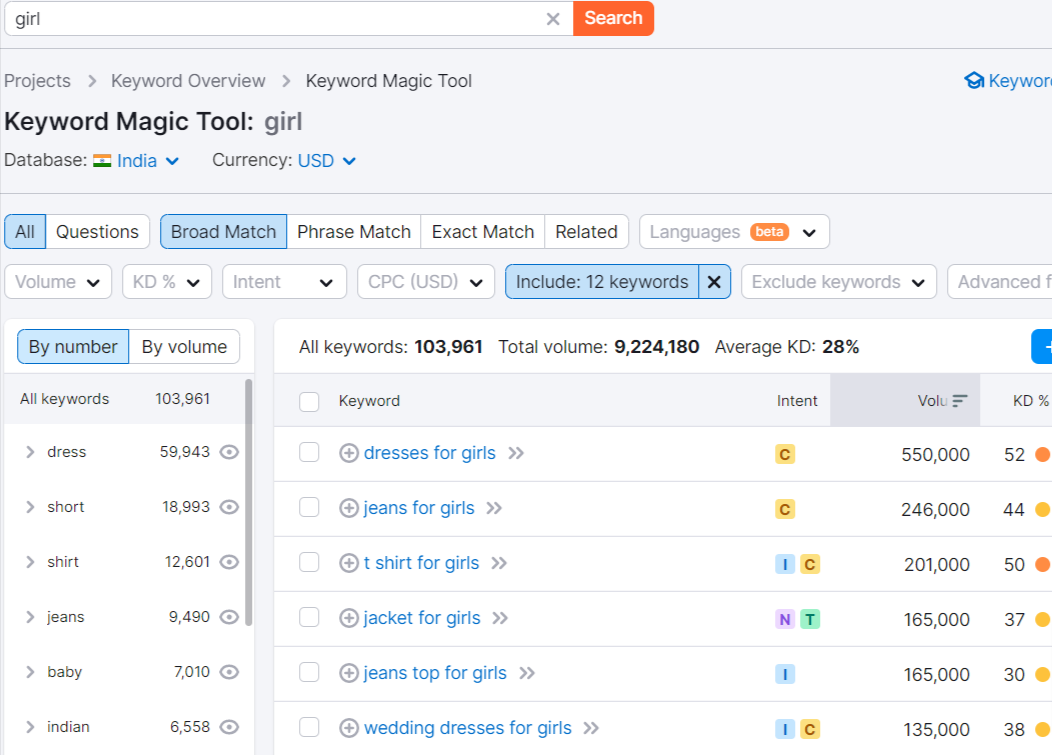 Based on Age  
While searching for kids' clothes online, most people usually search for terms with an age range at the end to filter their options.  
It is a good idea to have a categorization based on age to present your customers a tailor fit options for them and increase conversion rates.

The categories can be the following:
New Born (0-3 M)

3-6 Months

6-9 Months

9-12 Months

12-18 Months

18-24 Months

2 to 4 Years

4 to 6 Years

6 to 8 Years

8+ Years
Industry Top Player in Kids Clothing  
Here is a list of the top 3 players in the Industry:

Firstcry

Hopscotch


Mothercare

SEO Forecast of Kids Clothing Industry 
The future of the Kids' Clothing Industry seems promising as new-age parents will be habitual of ordering online and nothing can beat the comfort of buying quality products with a plethora of options with just a click. 
But there is more to back up this claim:
Increase in Customer Base:

"Shoppers from tier-2 and tier-3 cities are set to change India's e-commerce landscape. These online-savvy buyers accounted for over 61% of the overall market share in FY 2022, up from 53.8% in 2021," according to a joint report by Unicommerce and Wazir Advisors.

This number is all set to go uphill in coming years with Smartphone & Internet penetration going in all directions. 

Trust in New Brands

New-age Indian customers are not afraid to buy from new/emerging brands as in the past.  
So, even if a new brand shows up tomorrow and knows how to reach out to their potential customers the orders will start pouring in. 
How to Target The Right Audience? 
It all comes down to the right strategies when you need to show up on your customer's phone.  
Competitors Analysis  
Why not take a little help from your competitor's research and strategies and learn from them?

In the online world, competitor analysis is one of the powerful strategies to grab a decent spot in the fastest way possible.
Regions to Target in India
We analyzed the top regions which searched the most related to Kids' Wear in India.
To get this data we fed the following terms in Google Trends:
Kids Wear
Baby Girl Dress
Baby Boy Dress
Top 5 Sub-Regions which you should highly focus on.