In this post, you are going to learn how to choose a brand name or startup. By the end of this article, you will get to know the major do's and don'ts and would have already chosen a domain name for your startup.
I write this article based on my experience in starting and managing multiple startups and the virtuosity I have attained in buying domain names frequently. This ultimate guide helps you to choose a name for your brand or startup.
Do startup names really matter?
Startup names coin a founder's dream and hence, it is quite common for them to rack their brain for a name, spending a lot of energy and time. 
Having a relevant and smart name can keep you handy in your client's memory, helping you to be his first choice when he thinks of a solution. Also, once you get popular with your brand, it is not a smart move to change your brand name, as it can create confusion among the clients. Hence, choose the best one before you set out.
If your product gets to own the market, it is the name of your brand that will head the process in people's daily life thereafter. Remember, we no more "search", we "Google" it, we do not "edit" it, we "photoshop" it.  Communication being an inevitable part of marketing, and brand names, being an inescapable part of every conversation, it is important that the name gets registered among your clients and users.
The basic psychology of users would reveal the fact that they depend heavily on the brand names they hear and would obviously love to use a brand that they like, find familiar, trust and recognize.  With multiple brands providing similar business, do not let the brand name be the reason for your competitors scoring more than you.
When it brings in the emotions and passion, the founders have for their brain baby, when it contains the goals and values they stand for, when they represent their services, the name of a startup would serve more than the purpose of brand awareness.  
Metrics to be considered while choosing a startup name
There are a lot of factors to be considered while you choose a brand name, of which the most relevant and useful are mentioned below.
1.Domain Availability
Before you stick your mind to something that you beautifully crafted in your mind, see if the same is available. If someone had already chosen the name that you had in mind, it would be a little disappointing to be choosing something else.
Sometimes, even when the name is available, the domain may not be available. Always try to choose .com domain as it is considered standard and acceptable by people. 
Plan selecting your domain based on the extend of the audience that you want to reach. Stick to standardised and normal domain formats especially when you need international traffic.
This will help the clients remember your name easily with authority. It is not wise to choose a brand name on a domain that is relatively less popular ones, for eg: cctld, as it will reduce your trust factor among the people.
You can additionally buy similar popular domains if required if you plan to extend your business internationally.
GoDaddy is a popular platform that you can use to check the availability of the domains.  It is the largest domain name registrar and is ideal for newbies, startups and for managing a large number of domain names.
2. The pronunciation of the name
Make sure that you do not choose a brand name that can be confusing for people to be mispronounced. 
A misspelt and mispronounced brand name is the last thing a founder would want to happen to their company. This is because the audience can get split due to the difference in what they hear and say about the company.
Also, if another startup comes up with a name that sounds similar to your name, the mispronunciation can lead people to your competitor.
Hence, be clarified and clear regarding the spelling and pronunciation people might have about your brand name before you finalise it.
TIP: Send the name that you think of finalising to 10 of your friends and ask them to send a voice note on how they pronounce the word. This will give a basic understanding of the demographics of what people are going to think about your name and you can make changes to it, as required.
3.Brandable vs Keyword rich
Keyword-rich names will have the direct aiming of what they do in particular to satisfy the algorithms and to provide the public with a first general impression.
Brandable names will have something related to the work that you do, which can imbibe the feel of the work, without directly aiming at the same.  
This confusion has been prevalent from the time since immemorial and I would definitely suggest going for brandable names, as they can help you in the long run. They can give you loyal customers and people who stick with you for knowing what you are in-depth.
4. Check social profiles and usernames
There are chances that when you choose a brand name,  it might have been used on another side of the world in a totally different context.
As a rule of thumb, all your brand name, social media profiles, usernames, must be in sync as it will help people reach you out without any hustle.
So, check all the social media profiles, Instagram, Facebook, twitter etc for the name availability.
5. Easy to remember
This is one basic norm which ought to be followed for being followed easily and remembered. Make a little less complicated spelling so people do not reach some other page when they search for you.
6. Do not include numbers or hyphen (-)
Using space, numbers, hyphen etc would confuse someone who would hear the name. So, sticking to the alphabets a-z would be highly suggested to avoid the cumbersome procedure of communicating your domain name with a number or a hyphen.
7. Avoid trademark infringement
Internet domain names have become much more than a name representing a website or your company, they are framed as a trademark property of the company. Using the same causes the trademark infringement and one will have to face the consequences of the same.
8. Check Google results for the name that you select.
Always know the perspective of users and know what results would appear when they search your name. Lesser the results, better the chances of users landing on your page without being deviated.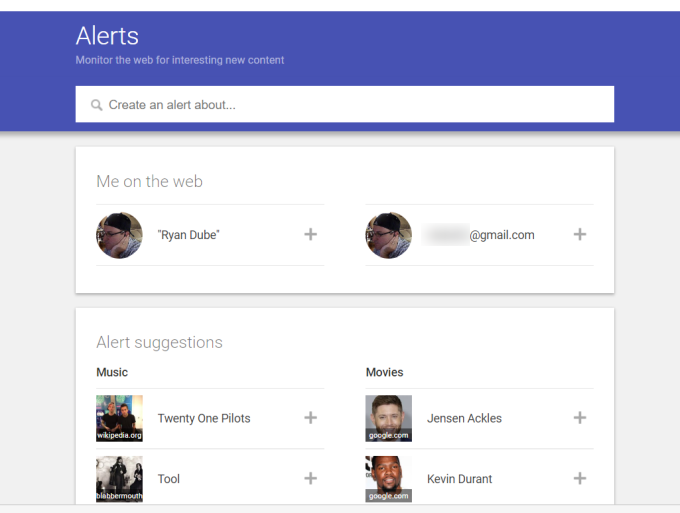 TIP: You can set up Google alerts, Fresh Web alert, or Mention Alert to track the web if there happens to be a mention regarding your name or domain.    
Even when you are not able to finalise on the name of your brand, still a few ideas can help you get there, marking your own space on the Internet.
9. Use the archive.com
archive.com is the non-profit library of the Internet that contains all the details regarding content that has ever been published on the internet.
You can check if there exists or existed some information on the name that you have chosen. It will not be advisable to select the name if there exists irrelevant and spammy content in other languages even. 
10. Using the magical word.
You can always alloy together, your keyword and a magical word to form an attractive brand name that will pass all the tests for being a noteworthy brand name for your company.
Eg: Foodwink
Here are a few magical words that you can make use of.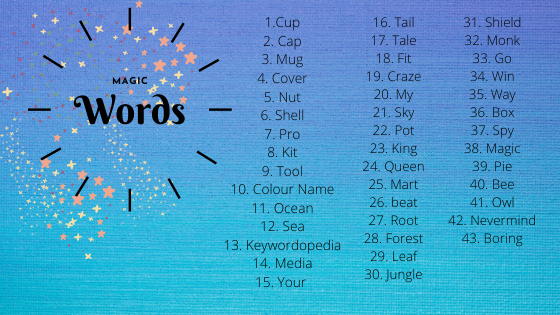 11. Name generators
There are plenty of name generators that you can just google up! NameMesh, Namium, Shopify Name generator tool, is to name a few.